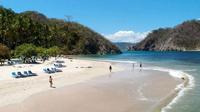 Tortuga Island Cruise Tour From San Jose
The Gulf of Nicoya's archipelago paradise is made up of various islands that are home to nature's abundance. The area is a sanctuary for marine birds, with white sand beaches and flora and fauna native to our Central Pacific Coast. The world-renowned Isla Tortuga is part of this beautiful archipelago. Located 12 miles from Puntarenas, Isla Tortuga's 120 hectares are maintained as a protected forest. The area maintains the Bandera Azul Ecol'gica, a distinction awarded to certain beaches in Costa Rica for their pure, unpolluted waters. Because of the island's location, its waves are gentle and its waters turquoise.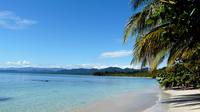 Tortuga Island Cruise from San Jose
Leave the bustle of San Jose behind on this full-day tour to the tropical beaches and warm waters of Tortuga Island, located on the Gulf of Nicoya. Featuring some of Costa Rica's best snorkeling, Tortuga Island also boasts white sand beaches and turquoise waters, perfect for a swim or to simply relax. Your local guide provides breakfast on the coach ride and a freshly-prepared buffet lunch at the beach. With round-trip transport from your hotel included, you get to sit back and enjoy the day!