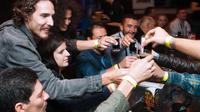 Craft Beer Pub Crawl
This tour is for anyone who loves beer. As you sample the talent of some of the best local breweries, you'll learn about the beer revolution in Costa Rica and ingredients involved in the beer process that give the colors and flavors you love. The tour includes a local city guide and a beer expert from 'La Bodega de Chema'. You'll also learn how to properly pair beer with the right dish, by offering different types of food for each one of the beers. You will also get a 6oz Souvenir Glass.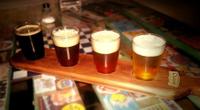 San Jose Beer Tasting Tour
Explore San Jose's Barrio Escalante and its assortment of microbreweries on a 3-hour beer tasting tour. Your informative local guide shares knowledge of Costa Rica's burgeoning beer culture and accompanies you to a variety of brewpubs where you'll taste a sampling (10 in all) of the choicest beers. Learn about the increase in popularity of craft beers as you discover new flavors, paired with tapas. Enjoy a brief stop at Artesanos Market to browse for souvenirs along the way! Small-group tour limited to 12 people ensures a personalized experience.